# What are Smart Terminal Apps?
Smart Terminals bring a series of default applications that every user can configure according to their specific needs and business requirements. Every application has a number of functionalities that are essential for the Smart Terminal's performance. This provides a unified experience for the merchant and a first look into terminal applications for developers.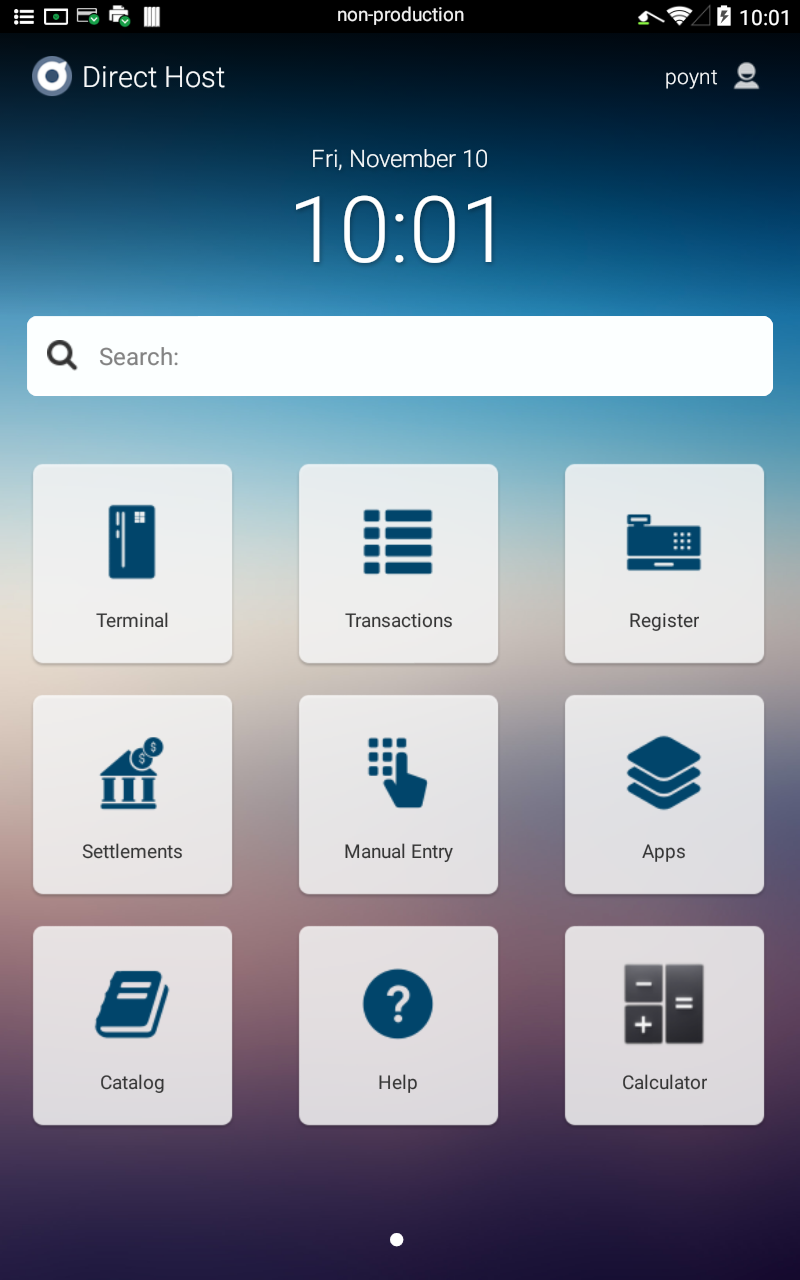 If you want to create brand new solutions that attract our merchants' attention, it's important to familiarize yourself with the default apps shown below. It will also help you create more innovative and dynamic solutions.
TIP
GoDaddy Poynt Emulators are also enabled to support terminal applications. If you wish to set up an emulator, you can go to our Getting Started section and select the emulator that best suits your needs.
# Terminal
This first application can act as a calculator that allows merchants to type in the exact purchase amount and accept the payment using the method selected by the customer.
# Transactions
The transactions application is essentially part of the Terminal application. However, we have included a separate icon on the launcher screen because of the app's independent functionalities.
This application can display a list of sales and post-sales events, allowing merchants to tap on any of the transactions to perform specific actions like refunds, voids, receipt printing, etc.
# Register
Register is a simple POS Application that can pull down the catalog of products from the Poynt cloud and allow merchants to scan items, apply discounts, and save orders, among several functionalities.
# Settlement
This application is used to adjust transactions, initiate settlements, view transaction details and batch reports based on the merchant's operational requirements.
# Manual Entry
This application was created for merchants to access the manual entry mode quickly. Users can also initiate a manual entry transaction from the Payment Fragment UI.
Although this application is available on developer units, it may not be available for merchants on specific processors.
# Apps
The App Marketplace is also known as Poynt Store. This application allows merchants to browse, purchase and download third-party applications for their business. Every application in the marketplace allows users to manage and cancel their subscriptions at any time.
# Catalog
Merchants can also create or update their product catalogs using Poynt HQ or the default Catalog application found in the Poynt Terminal.
# Help
This application brings numerous video tutorials, support information, knowledgebase articles, and diagnostics functionalities.
# Calculator
Finally, we have also added a calculator application, allowing merchants to perform all kinds of mathematical operations with a few simple clicks.