# Developer Portal Account
If you are thinking about joining our team of contributors, the first step to begin developing incredible applications for GoDaddy Poynt is to sign up for a developer account. Depending on your location, you will be required to use the US Developer Portal (opens new window) or the EU Developer Portal (opens new window).
Please follow the steps outlined below to set up a developer account to manage your applications.
After selecting the correct developer portal and URL, an additional tab will open on your browser, and you will be asked to provide a valid email address.
You should receive a confirmation message with a hyperlink on the email you provided to complete the signup process.

Once you click on the link, you will be redirected to the registration form, which will require additional information, including a new password.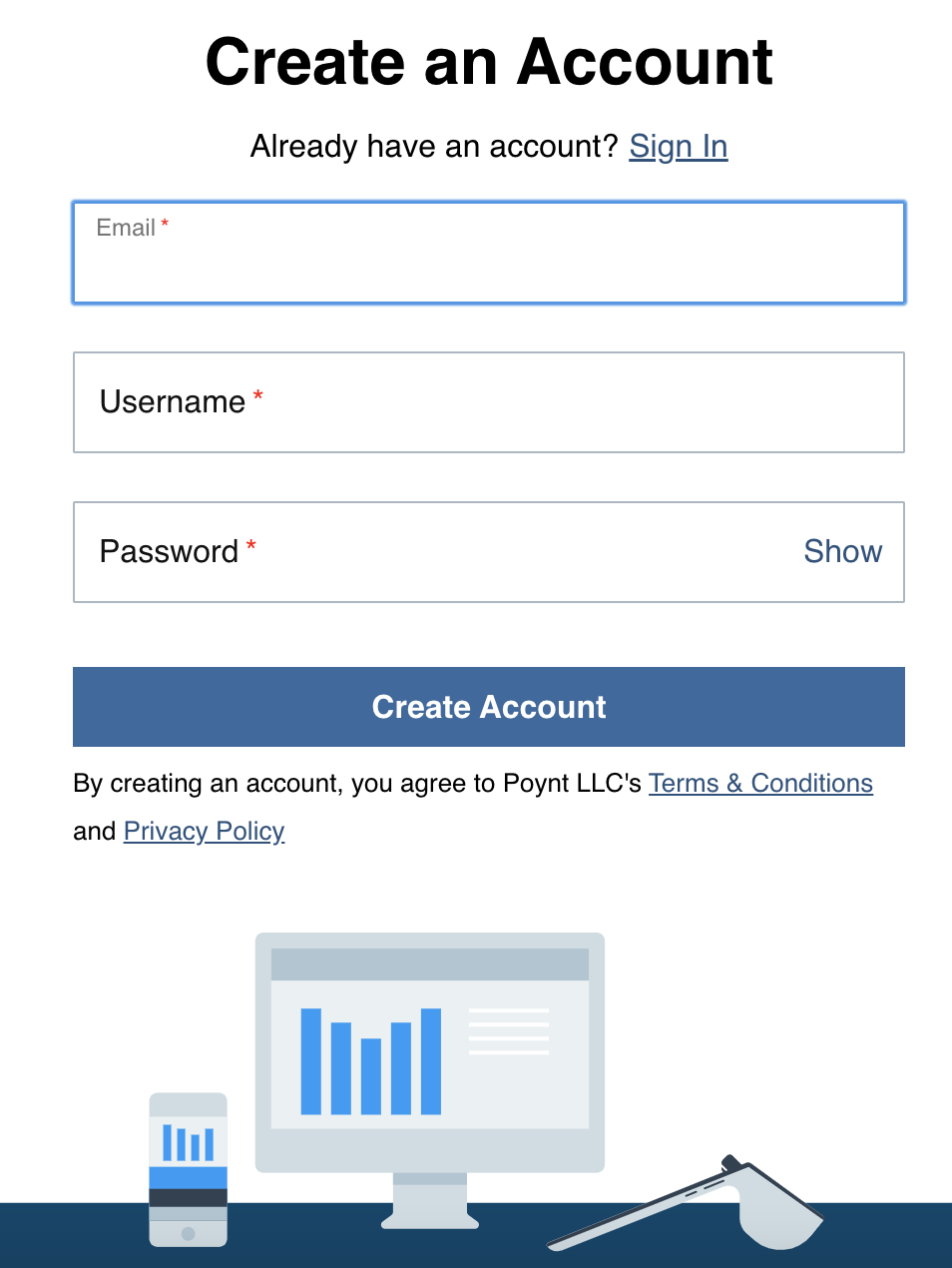 After completing your registration, you will be able to sign in to your developer account through the US Developer Portal

(opens new window)

or the EU Developer Portal

(opens new window)

. The dashboard should look similar to the image below.
# Creating a Test Merchant
Once you have registered to the platform, the next step is to create a Test Merchant. Having a registered test merchant in your developer portal is necessary to activate your Smart Terminal or Emulator and facilitate the app development and testing process.
By default, all developers are assigned an organization so they can invite other teammates to join and access the same applications. You can check this out later after setting up your device.
On the main dashboard, go to Merchants. You should be redirected to the Test Merchants section.
The system will automatically give you random information to create a test merchant. Check the circle if you wish to include the test catalog, and click on submit.
After submitting, wait a few seconds and refresh the page for the changes to take effect.
Once you come back to the section, you will be able to see your newly created merchant on the dashboard.
By clicking on the merchant, you can access details such as MID and TID, which you will need if you wish to activate an emulator.
TIP
If you wish, you can also change the merchant name, but for testing purposes we recommend keeping the default bank, since all of the transactions will be going against our testing environment.
If you are working with a Developer Kit and want to activate your terminal, please refer to the Smart Terminal Configuration section.
If you wish to download and set up an emulator, you can also refer to our GoDaddy Poynt Emulator sections and select an emulator.